Join us for the next STEM Connect Saturday
Here are the dates for our upcoming STEM Connect Saturday Events:
January 20, 2024, 11 a.m. – 2 p.m. – Aviation and Drones! Featuring Guest Speaker Peter Weber, author of The Adventures of Pilot Pete
March 16, 2024, 11 a.m. – 2 p.m. – Engineering and Women's History Month
May 4, 2024, 11 a.m. – 2 p.m. – Space Day!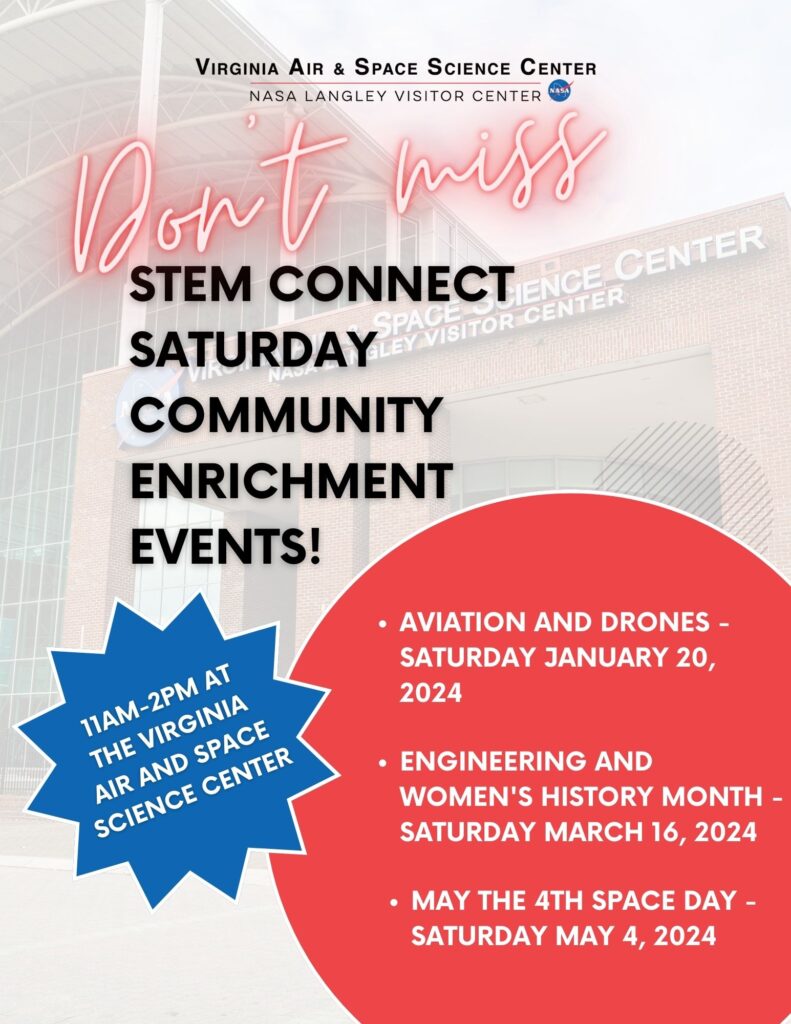 Thanks to the support of Congressman Bobby Scott, the Virginia Air and Space Center was awarded funding through the National Aeronautics and Space Administration (NASA) to provide a program that integrates Language Arts and science, technology, engineering, and math (STEM) through a multi-prong approach. 
STEM Connect: NASA STEM Literacy and Community Enrichment is a grant-funded project with three main objectives:
Community enrichment events: 5 STEM Connect Saturday Community Enrichment Events will occur at the Virginia Air and Space Science Center. These events are September 2, 2023; November 11, 2023; January 20, 2024; March 16, 2024; and May 4, 2024. These events will feature engaging, hands-on STEM activities for families thanks to various partners across varying STEM fields. We are providing free admission for the first 500 attendees to ensure the community at large has access to these educational experiences. 
Library books to schools: 92 schools in the Hampton Roads area have been chosen to receive 30 different STEM-focused library books to add to their collections. Books will be delivered by staff from the Virginia Air and Space Science Center so that students can learn more about the world of STEM through literacy. These books will be available at each of these schools for students to check out from the library.
Curriculum and professional development: 5th-grade classrooms at the 92 participating schools will be provided with classroom copies of Hidden Figures: The True Story of Four Black Women and the Space Race, as well as aligned curriculum resources and activities to accompany the provided books. In addition to these resources and activities, teachers will be provided with professional development videos to assist in their teaching using the book and associated materials.
The overarching goal of this project is to engage and enrich students through various opportunities such as our STEM Community Enrichment events, access to library books, and classroom curriculum and activities. Through these experiences, we hope to stand true to our mission to entertain, engage, and inspire learners of all ages.
In partnership with Celebrate Healthcare, the Virginia Air and Space Science Center held a Back to School STEM Day on Saturday, September 2, 2023! Over 800 people participated in STEM activities, including a helicopter and wind tunnel investigation with NASA Langley and robotics challenges with museum educators. Families were able to receive free school supplies, haircuts, vaccinations, and more! If you weren't able to join us this time, visit on November 11th for a NASA event celebrating the next Artemis Mission!