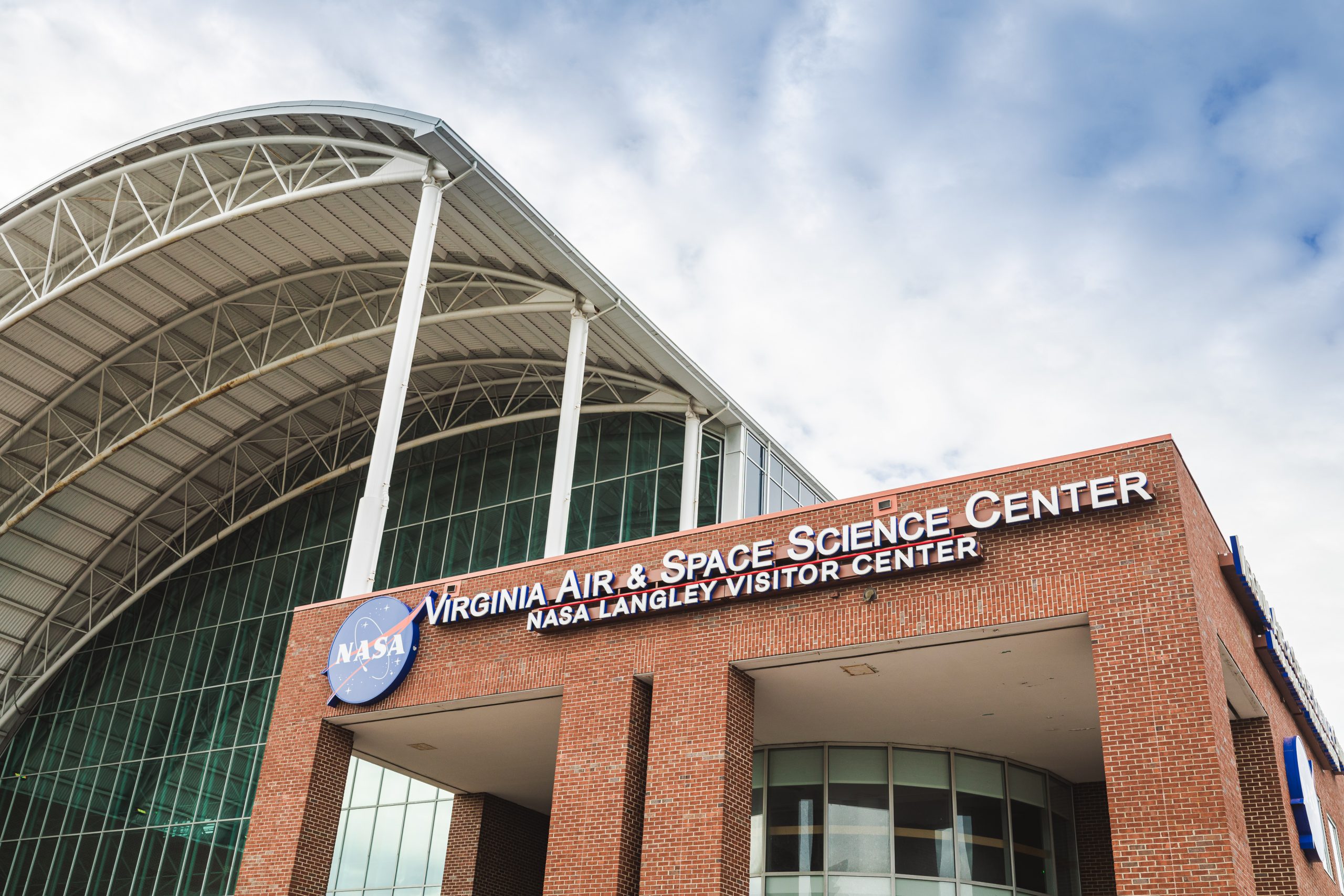 The Virginia Air & Space Science Center is celebrating more than 25 years of educational excellence as the official visitor center for NASA Langley Research Center.
Located in Hampton, Virginia, the birthplace of America's space program, the Virginia Air & Space Science Center features interactive aviation exhibits spanning 100 years of flight, more than 30 historic aircraft, a hands-on space exploration gallery, unique space flight artifacts, and more! The Center is home to the Apollo 12 Command Module and the Orion PA-1 Test Vehicle.
Our mission
The mission of the Virginia Air & Space Science Center is to educate, entertain, and inspire explorers of all ages. 
La misión del Virginia Air & Space Science Center es educar, entretener e inspirar a exploradores de todas las edades.
La mission du Virginia Air & Space Science Center est d'éduquer, de divertir et d'inspirer les explorateurs de tous âges.
弗吉尼亚航空航天中心的任务是教育,娱乐和激发各个年龄段的探险者。
تتمثل مهمة مركز فيرجينيا للطيران والفضاء في تثقيف وترفيه وإلهام المستكشفين من جميع الأعمار
Our history
The Dream…
In 1985, when Hampton City Council, with the advice from community leaders and key public officials, set a goal to create a major, new educational and cultural center for area residents that would also serve as a magnet to bring tourists to the Hampton Roads Region.
A unique collaboration between the City of Hampton and NASA Langley Research Center started in 1986. NASA Langley Research Center expressed a willingness to relocate their visitor center to downtown Hampton, so more people would have access to explore the past, present, and future of air and space. The City wanted a new place to highlight Hampton's wealth of history. Hampton is America's first permanent English speaking settlement and the birthplace of our country's air and space technology.
The new attraction's theme from the "Sea to the Stars" would tell an exciting story of Hampton's seafaring beginnings to its pioneering role in space travel. Thus, was the birth of the Virginia Air & Space Science Center and Hampton Roads Visitor Center; officially incorporated on December 9, 1987.
A special team of City of Hampton and NASA employees worked with world renowned Mitchell/Giurgola Architects to create an icon for our region. The staff also worked with the exhibit design firm Krent/Paffett of Boston to design the air, space, and history exhibits.
Developed through the joint efforts of the City of Hampton and NASA Langley Research Center, the initial construction cost $30 million and was initially funded through a combination of city funds, state grants, and private philanthropy. The facility is 110,000 square feet and nine-stories high, situated on 2.2 acres in beautiful Downtown Hampton. The Virginia Air & Space Science Center is a private, non-profit 501(c)(3) corporation governed by a board of directors.
After seven years in the making, the adventure began on April 5, 1992, when the new $30 million Virginia Air & Space Science Center officially opened to the public. Over 12,000 people participated in the opening activities which included an appearance by Astronaut Pete Conrad, an aerial Air Force salute and a special message by Governor L. Douglas Wilder. The Center experienced great success its first year with over 250,000 people visiting.
Twenty five years later we continue to provide educational experiences through Science, Technology, Engineering, and Mathematics (STEM) to students who will one day become our next 21st Century explorers of the future.